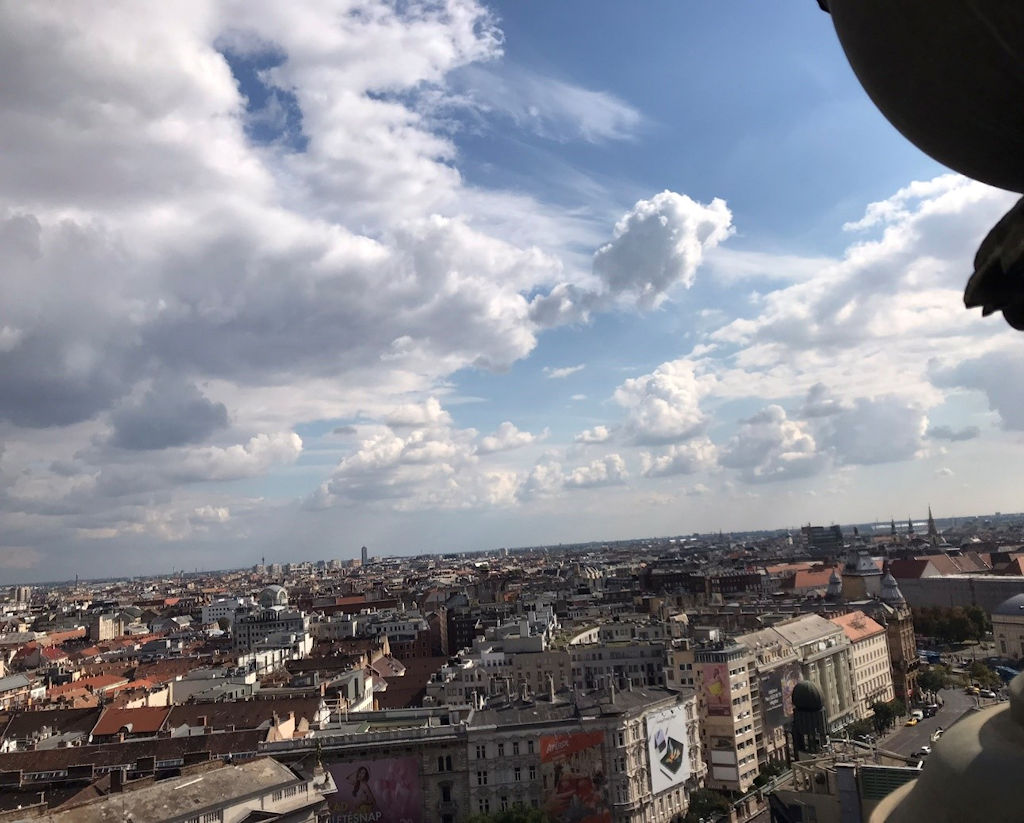 I arrived on Thursday 22nd at 1 pm at the Liszt Ferenc International Airport, and the taxi driver Joszef took me to my hotel. We spoke about life, and he also said that he and many of his countrymen are afraid that the terrible war that Ukraine have to experience might escalate, an opinion shared by all of us.
During my three and a half day stay I in Budapest I had some twenty memorable experiences which enriched my life, starting with a visit to the National Museum and ending with a dinner at the restaurant Szazeves with live Hungarian music played by excellent musicians. My hotel was situated close to the St. Stephen´s Basilica, so I had walking distance to most of the places I went to.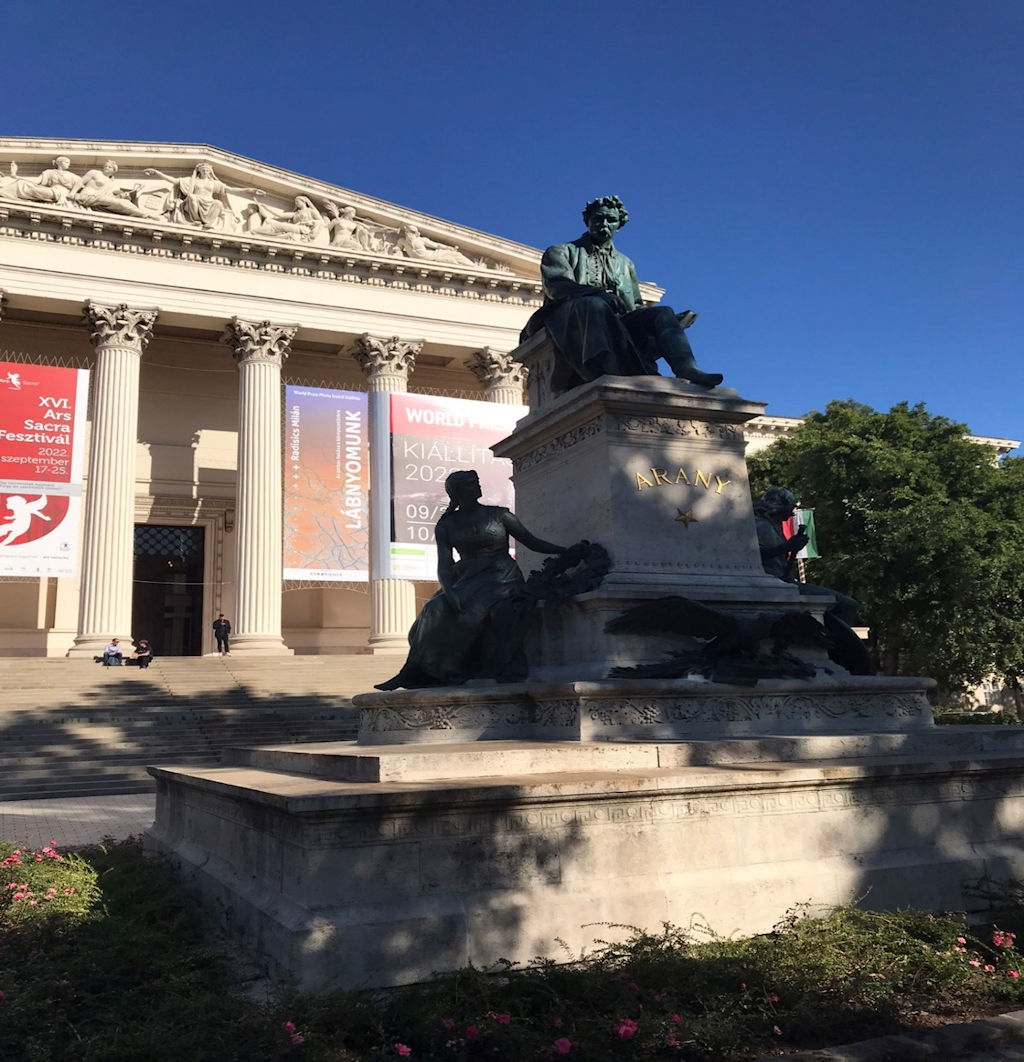 My visit began with the National Museum, where my main interest were the two items that Franz Liszt gave to the Hungarian nation in 1873 when Hungary celebrated Liszt´s 50th anniversary as an artist. Liszt was so overwhelmed by the grandiose celebrations that he decided to donate two extremely valuble gifts that he had received decades earlier – the sword of honour and Beethoven´s piano. In January 1840 Liszt played a concert at the Hungarian National Theatre, and at the end of the concert Liszt recived from a delegation of Hungarian noblemen dressed in Hungarian folk costumes a huge sabre and it´s sheath adorned with diamonds and rubies. And in 1846 the Vienneise lawyer and music publisher Anton Spina as a token of his admiration for Liszt gave Liszt the piano that Beethoven had received from London in 1818. (Spina had bought the piano at the auction that was held after Beethoven´s death). For me it was an almost solemn experience to stand less than one meter away from these famous music "relics". Some beautiful pictures of both the sword and the piano are now safely in my computer.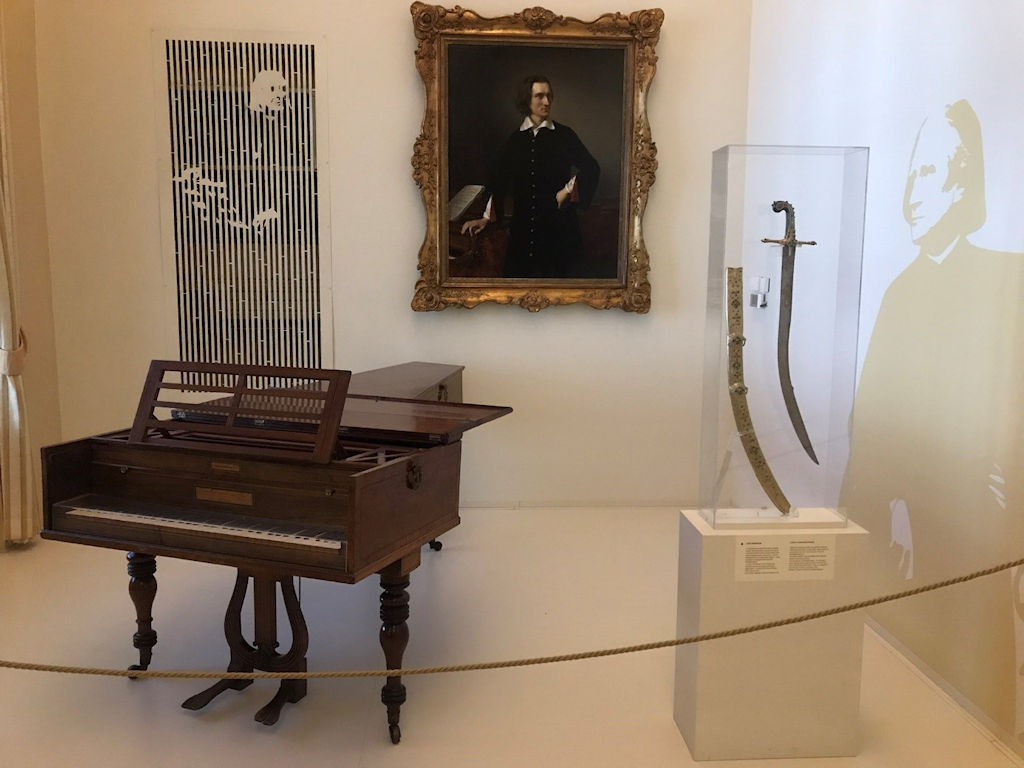 Next memorable event was an evening cruise on the Danube, which lasted one hour, and in the falling night-light Budapest turned from beautiful to magical! Modern great cities in the world are in my opinion too harshly illuminated with sharp vulgar advertisements forcing themselves upon people, but here I found the great city mildly and tastefully illuminated, which made a poetic impression on me – like a time-machine which took you to an old world. To see the Parliament building and the Mathias Church with the Fisherman's Bastion in daylight is wonderful, but at night in this light it is a wizard´s work.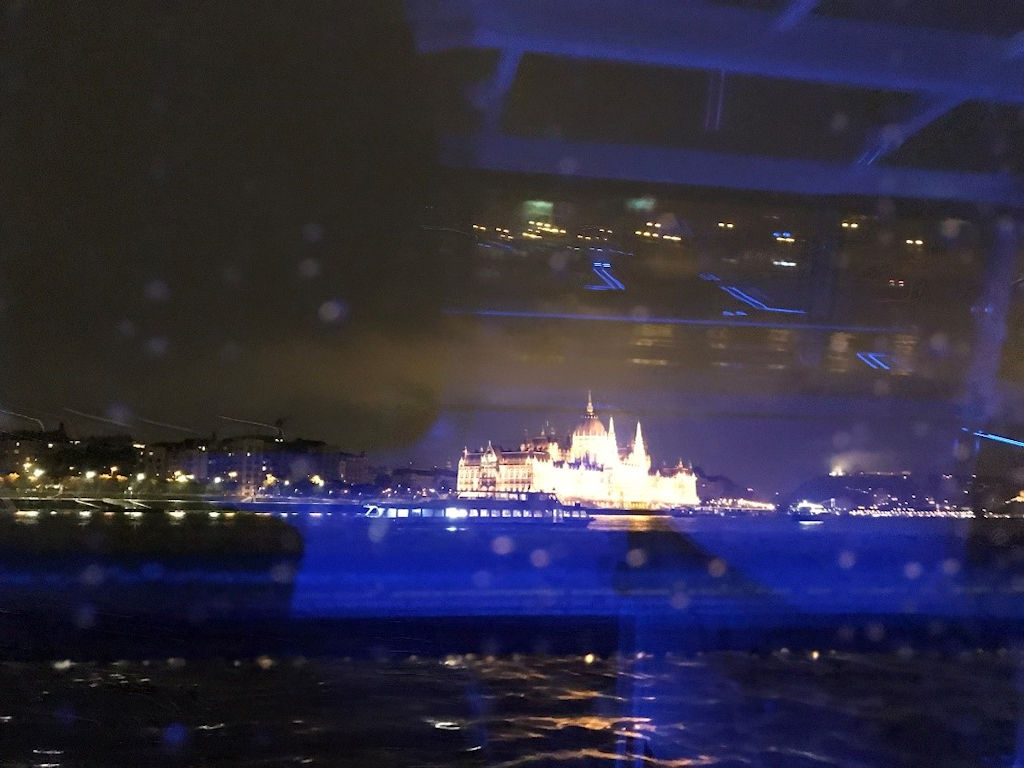 Well, also dreamers get hungry, so I found my way to the Market Hall and on a small street nearby I found the cosiest little family restaurant, where I ate my first gulash soup during my stay as well as a simple but very well tasting chicken dish and a glass of red house wine. On the walls the owner had photographs taken every Christmas Eve for the last ten years of him and his family – wife and two children – dressed in Hungarian Folk Costumes. A number of enchanting plates, glasses and goblets adorned shelves along the walls.
Next morning at 10 pm I started out on a three-hour´s city tour walk with a guide. We were some ten persons who were guided by a lady from England who had liven in Hungary for 25 years, married to a Hungarian man. We walked from the Kalvin Square near the National Museum up to the Parliament building, and our guide told us many very interesting things – lovely stories about houses and bridges and horrible stories about the 1956 uprising and how dailly life during Communist time was a true nightmare for ordinary people. On our way we met Ronald Reagan – who put hope into the hearts of millions when he in a speach in front of thousands by the Berlin Wall said "Mr. Gorbatchev, tear down this wall!"  Well, good old Ronald has done his share, but a fine statue of him reminded me of how hopeful we were thirty years ago.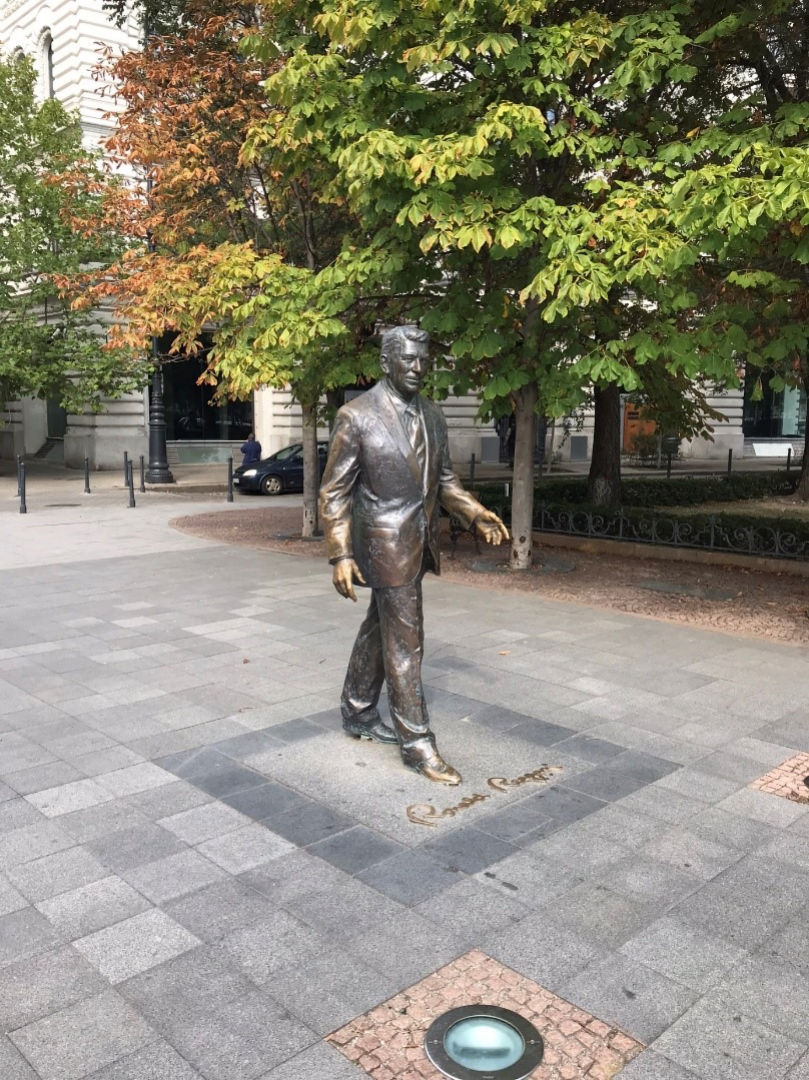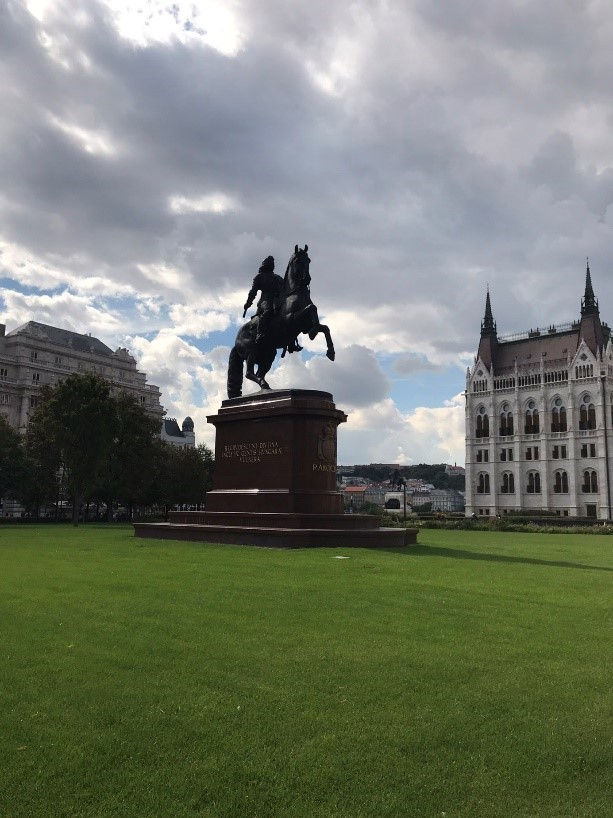 After this organized city walk I took a closer look at the Parliament building, which took some 30 years to complete, and for instance the 365 towers – one tower for each day of the year! – perhaps reveal the vision of the ambitious architect who sadly did not live to see his project completed. In front of the building stands a grand staty of Count Rakoczy – the 346 year old Hungarian hero sits proudly on his horse, inspiring today´s Hungary to keep the good spirit up.
Next on my program was the imposing St. Stephens Basilica, it´s interior is just as magnificent as the view from the top of the roof of the cupola – some 96 meter up in the air. When I entered the church a young couple came out and was greeted by cheers and hurrahs – the newly wed smiled and dashed off in a huge white limousine. I wonder how they felt saying" I do" in the grandeur of this  magnificent and monumental shrine – humble or just happy?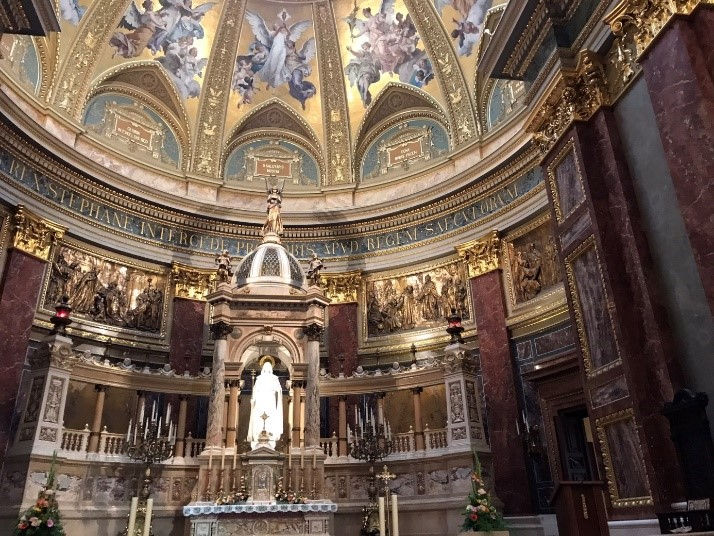 My last adventure on Friday was a visit to the National Opera and a performance of The Tales of Hoffmann by Jacques Offenbach. Offenbach composed many operettas and only one opera – the one about Hoffmann. This opera is one of the greatest successes in the world of opera, rivalled perhaps only by Mozart´s The Magic Flute. But whereas The Magic Flute is all magic and fantasy, The Tales of Hoffmann at least departs from the real life of the multi-artist Ernst Theodor Amadeus Hoffmann – a play about Hoffmann´s life was written 30 years after his death in 1822, and 30 years after that – in 1881 – Offenbach´s opera had it´s premier in Paris. So great was this operas success that only ten months later it had been performed 100 times in Paris alone!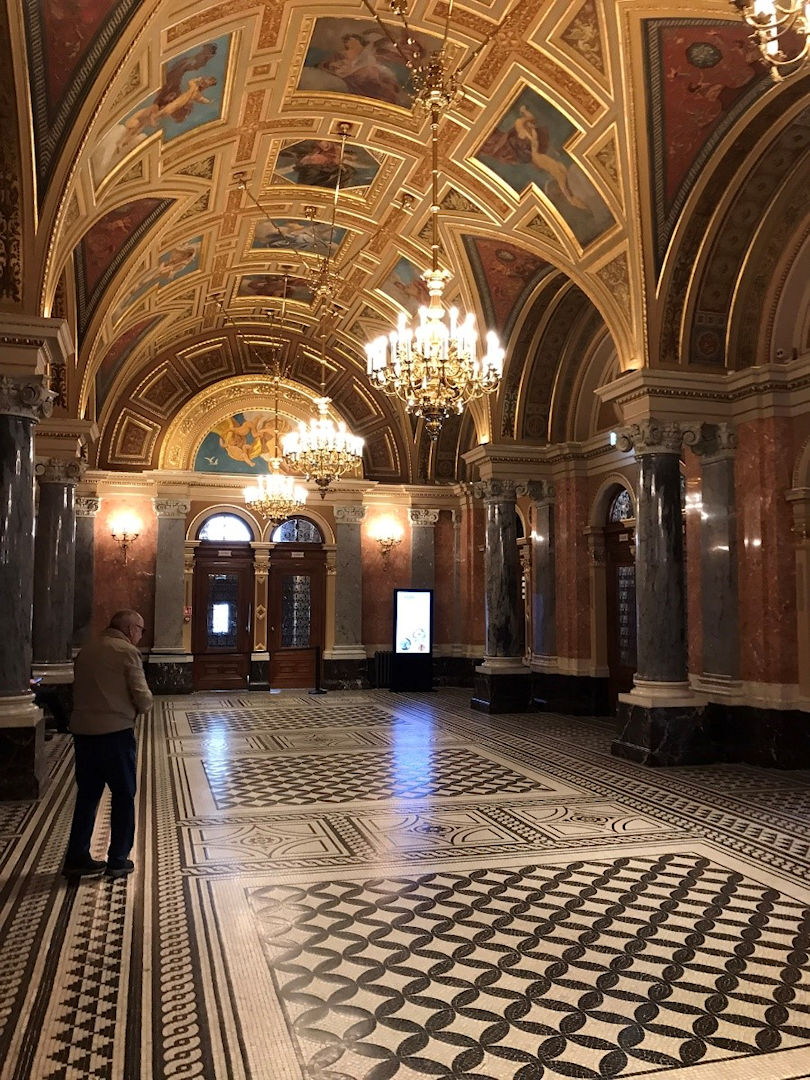 The interior of the Budapest Opera house is marvelously beautiful with the same colouring strategy as is prevalent in the National Museum and the Stephen´s Basilica – mildly red, gold, black and white. The performance was superb with brilliant singers like the soprano Klára Kolonits who sang with utmost ease, charm and beauty, and the orchestra´s  sound was velvet. The house was full to capacity and the audience applauded with warmth and enthusiasm.
My first adventure on Saturday was for me the high-point of my visit to Budapest – I went to the Liszt Memorial Museum on Vörösmarty utca 35, a three-room flat where Liszt lived whenever he visited Budapest between 1881 until his death in 1886. It is situated just a short walk away from the Liszt-Academy. The flat is beautifully furnished and all is kept as it was when Liszt lived there. It was his friends at the newly opened Music- Academy who arranged this flat for him and he taught his pupils there, he lived and composed there, and he received his guests and friends there. It was also here that the ladies who adored Liszt came to swoon, and one of the young ladies who perhaps swooned a bit too much was the" Cossack Countess from Ukraine" Olga Janina – gifted pianist and novel writer with a volcanic temperament. She fell in love with Liszt and when he tried to get rid of her by sending her to the United States on a concert tour, she awoke one morning Over There and suddenly felt that she hated Liszt and decided to return to Europe to kill him. So she came to his flat, opened her handbag, draw out her pistol and said:" Now I will shoot you, and you know why," And Liszt answered calmly:" Madame. What you are about to do is evil, and I will ask you not to do it. But I shall not stop you." She then threw her pistol on the floor, grabbed a poisonous pill from the depth of her handbag and said that instead she will now kill herself. Liszt called on his friends, who presented her with the following choice:" Leave Budapest within 24 hours or we will call on the police." She left Budapest, and Liszt regained his quiet life. But Olga Janina – who in fact was a Polish businessman´s daughter called Olga Zielinska-Piasecka – took revenge by writing four novels where Liszt was described as a scoundrel; the novel was printed in thirteen editions, so many people read about the scoundrel Franz Liszt. (To be honest, the incident with Olga happened10 years earlier in another flat – but in Budapest. It was just irresistible not to tell it here and now – it could very well have happened in this flat).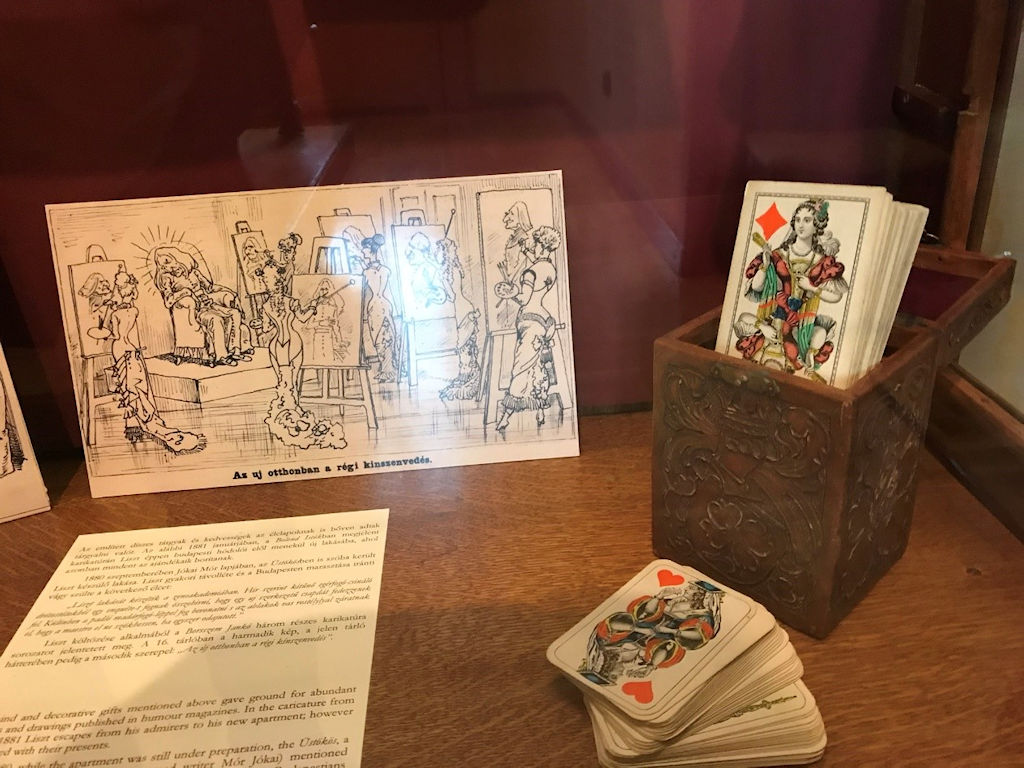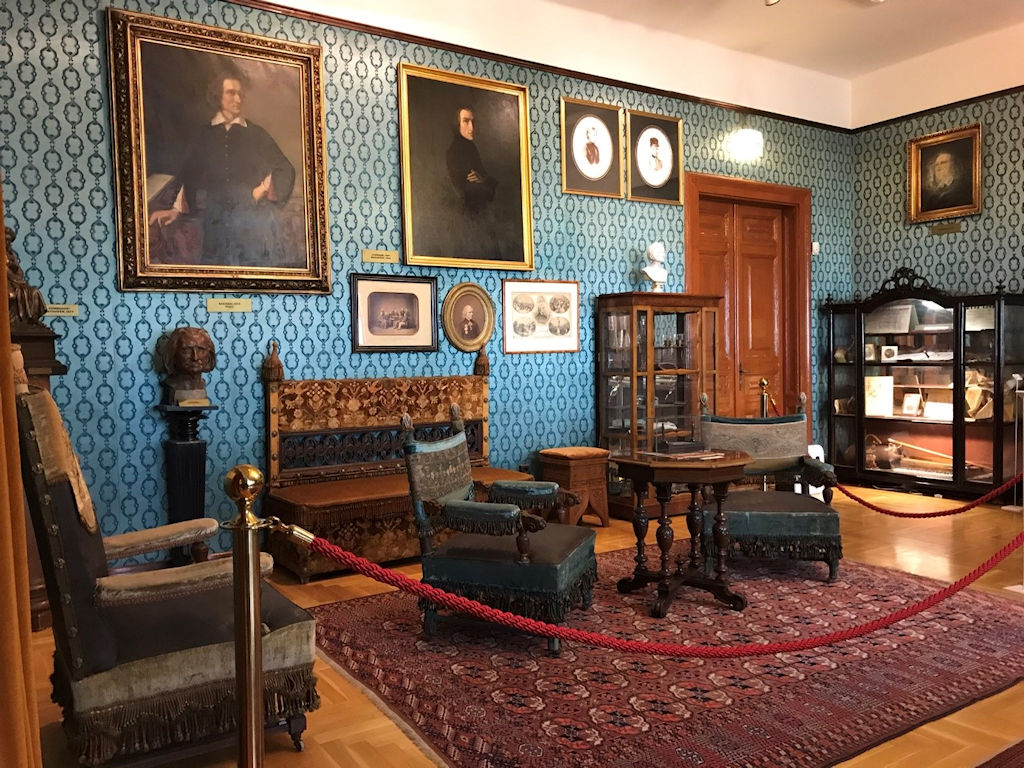 In this flat the three Grand Pianos dominate – one Bösendorfer Concert Grand and two Chickering Concert Grand. "A mastery of the industry of the United States" said Liszt about the Chickering´s. The combined bed-room and work-room has a wonderful desk that is a combination of writing-table and mini-piano, where Liszt composed and could try things out on the three-octave keyboard without having to leave his desk and go to the piano to check things out. This smart writing desk/mini-piano was built for Liszt´s personal need by the still famous piano-builder Bösendorfer in Vienna.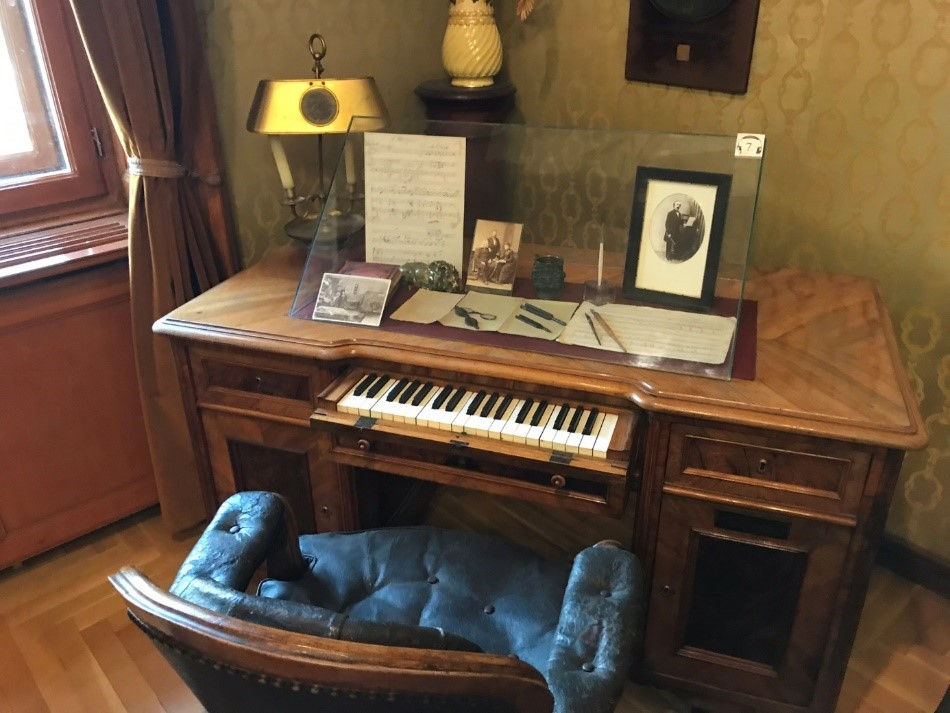 In this pleasant flat one of course also finds many other things – some of the most famous paintings on Liszt by famous painters, portraits of Liszt´s parents and three children, Liszt´s walking-stick and gloves, his prayer-pedestal with prayer-book, rosary and crucifix. Interesting to see is also Liszt´s travelling dummy key-board – a 3 octave keyboard which Liszt brought along om his long journeys in order to practice.
Also on display is Gustave Dore´s fine drawing on St. Francis of Paola Walking on the Waves which Doré gave to Liszt as a gift in 1866. On the drawing Doré has written: "À l´ abbé Liszt, hommage affecteux de son admirateur."St. Francis of Paola was Liszt´s patron saint, and inspired by the famous story of St. Francis he composed a magnificent virtuoso piece for piano. The story tells that when St. Paolo arrived to the strait of Messina he could not pay for the fare, and the boatsman said mockingly: "If you are a saint, then why don´t you just walk across." Paolo then put his cloak on the water and walked across to the other side of the strait. In Liszt´s glorious piece we hear the rolling waters and the roaring waves and above this Francis´s solemn theme sings proudly and without hesitation. Liszt was a firm Christian believer, and many times in his life he walked on his own cloak.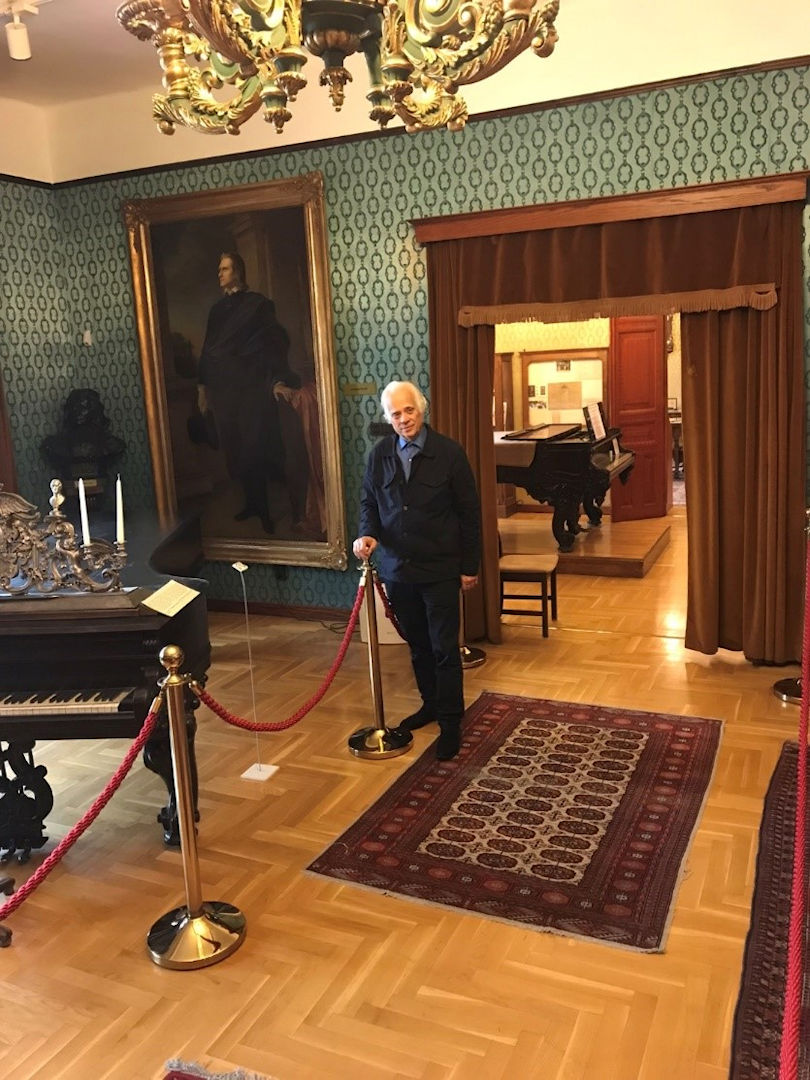 I had brought with me a copy of my book Franz Liszt. The Man of Contrast´s which I hoped that maybe the Museum and research Centre would accept into its library. When I asked the young assistant about this he doubted that the Liszt-Academy (the memorial Museum and Research Centre are a part of the Liszt-Academy) could accept the book just like that, but he told me that the director of the Museum and Research Centre would come in a half an hour and then I could ask her. And Dr. Szuszanna Domokos came and we had a very nice and interesting talk about Liszt and she gladly took the book to have it incorporated into the library of the Liszt-Academy. And I in return received a most interesting and beautiful book about the memorial museum, with a fine dedication written by Dr.Domokos.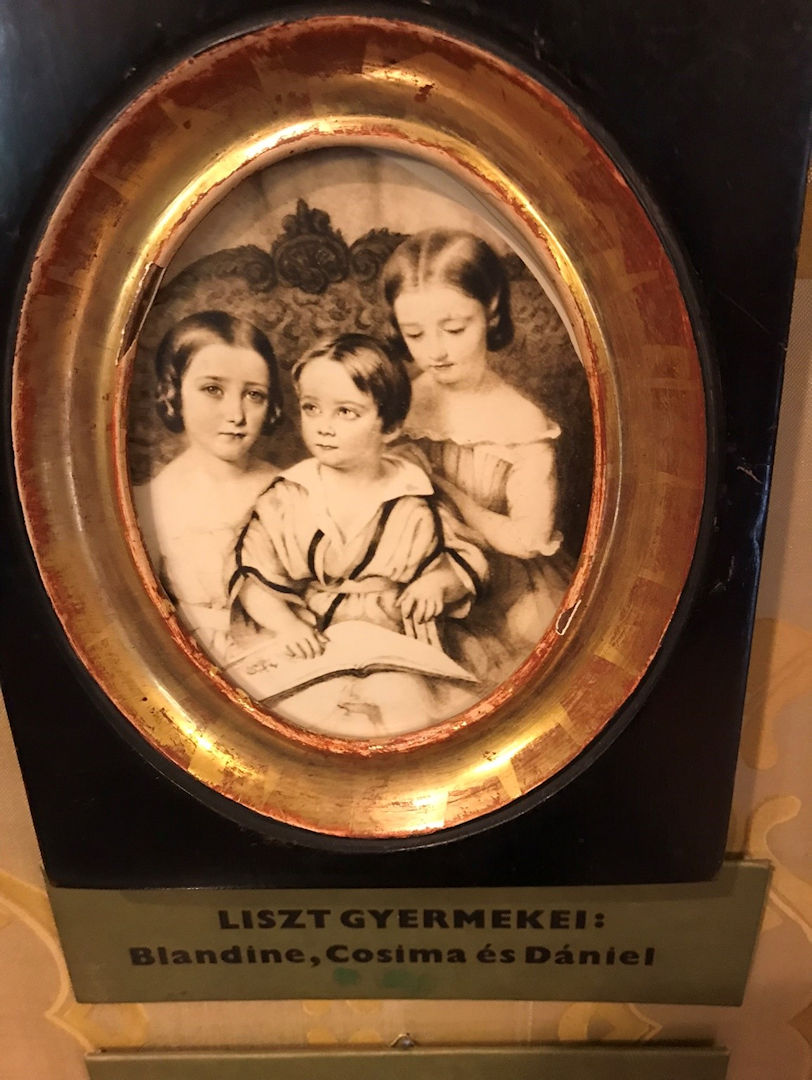 One hour later I went on a guided tour of the Liszt-Academy, where our guide told us – some 15 persons from all over the world – many interesting things. The lobby and concert hall was almost overwhelming in its tasteful and balanced beauty. The Academy had recently undergone a profound restoration which cost 50 million Euros – of which 90 % was paid by the EU and the rest by the Hungarian government. The result is indeed worth every penny, and the 860 students (20 % from abroad) and 168 teachers of the Academy and the audiences who fill the concert-halls of the Academy are to be congratulated!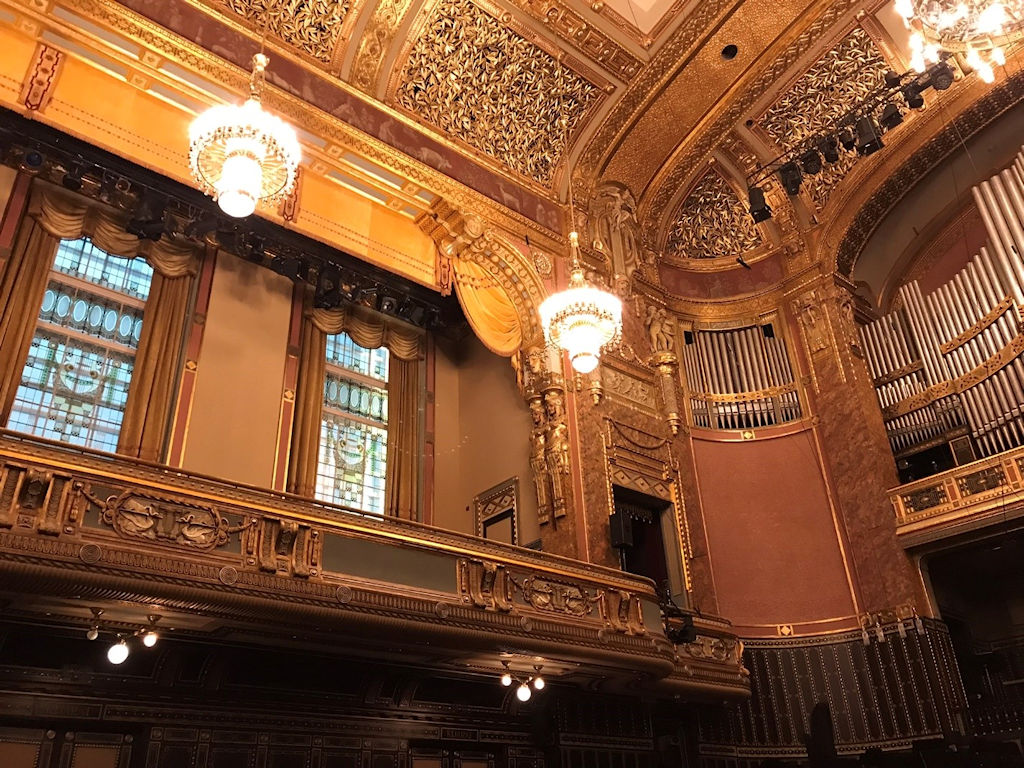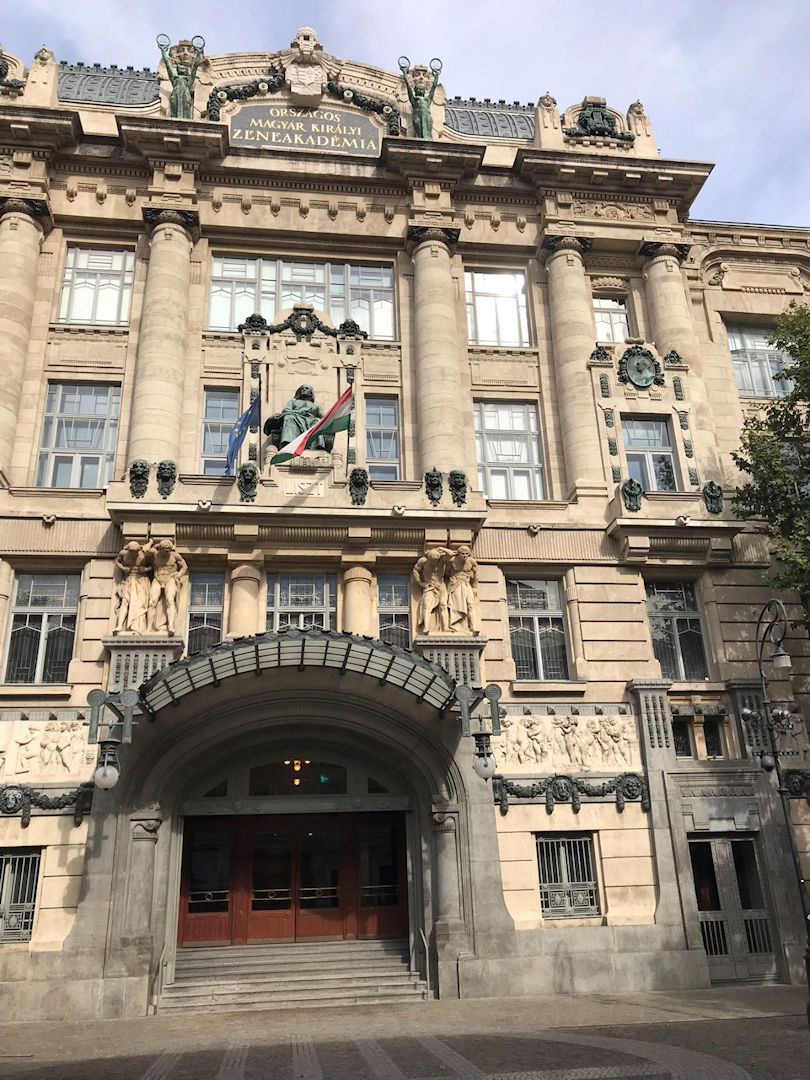 At 7.30 pm I attended a concert in the Concert Hall of the Liszt-Academy. The symphony Orchestra Concerto Budapest and world-famous Hungarian pianist Deszö Ranki played Bach and Mahler – before the intermission two piano concerts by Johann Sebastian Bach (D minor BWV 1052 and A major BWV 1055) and after the intermission Gustav Mahler´s 1st symphony which had its première in Budapest in 1889.
Before the concert I asked one of the young ladies/hostesses where I could meet the soloist Deszö Ranki after he has played – I wanted to thank him and ask if he would accept my book about Liszt as a gift – and to my surprise she told me that it would not be possible – "it is not done here." And so I went to her superior, a middle aged lady who believed that it would not be possible, but she would call and ask. She called and the message was that it can´t be done:" The soloists must not be disturbed." I thanked her and went to a third ticket-controller – this time a young man standing guard at another door – and he said:" If you walk to the end of the lobby and turn left, you must walk to the end of that corridor and you will find a door which is watched by a guard. Ask there and see what happens." And so I went and at the door I found two young lads. I presented them my errand and one of them said that it would probably not be possible, but he would go and ask. When he came back he said:"Mr. Ranki will come to you immediately after he has played."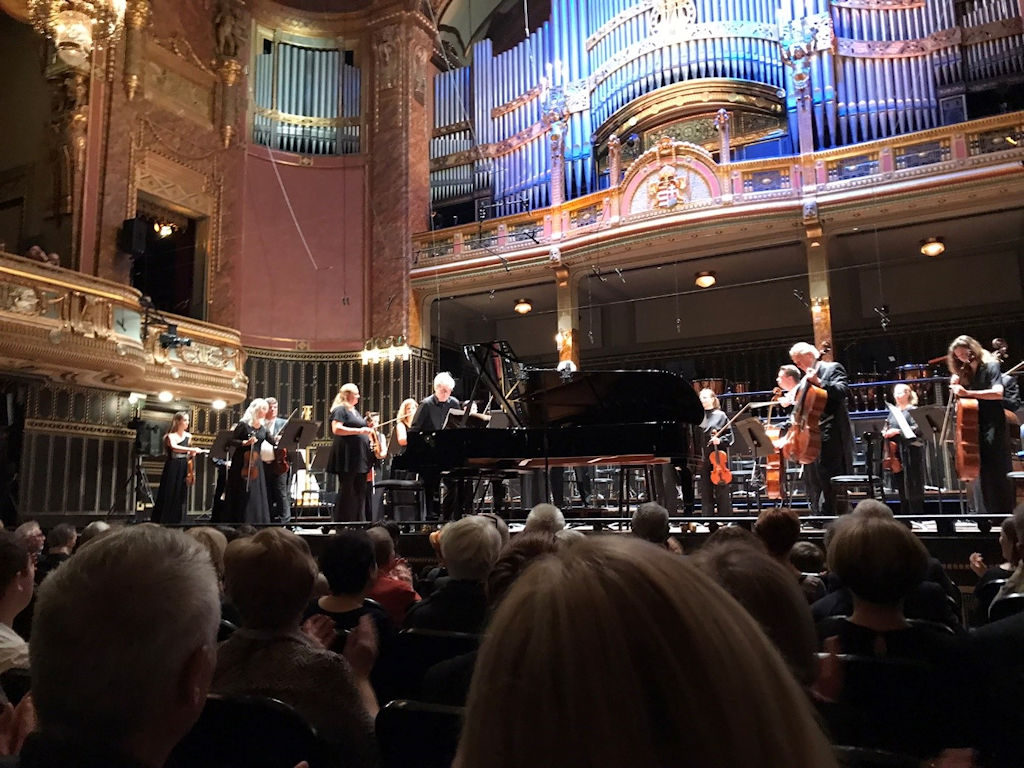 After Mr. Ranki´s excellent performance of the two Bach concertos I waited at the door for some 10 minutes, and suddenly there he was. He is quite tall and gave a slightly shy and very nice impression. We had a nice chat and I thanked him for his masterly piano playing and I gave him my book which he accepted.
The Mahler symphony was played in a most grandioso manner – as it should – the music is indeed grand and a whole world of beauty and fairytale was revealed in front of a fascinated audience.
On the last day of my trip – Sunday – I started with a long walk along the Andrassý avenue for my first adventure that day – the newly constructed House of Music. Before I reached the House of Music I came across the Heroes Square with it´s grandiose statues and the Millennial Monument – a 40 meter high obelisk, which was constructed in 1896 for the 1000 year´s commemoration of the Magyar´s settlement in Hungary. This place is very important for the identity of the Hungarian nation.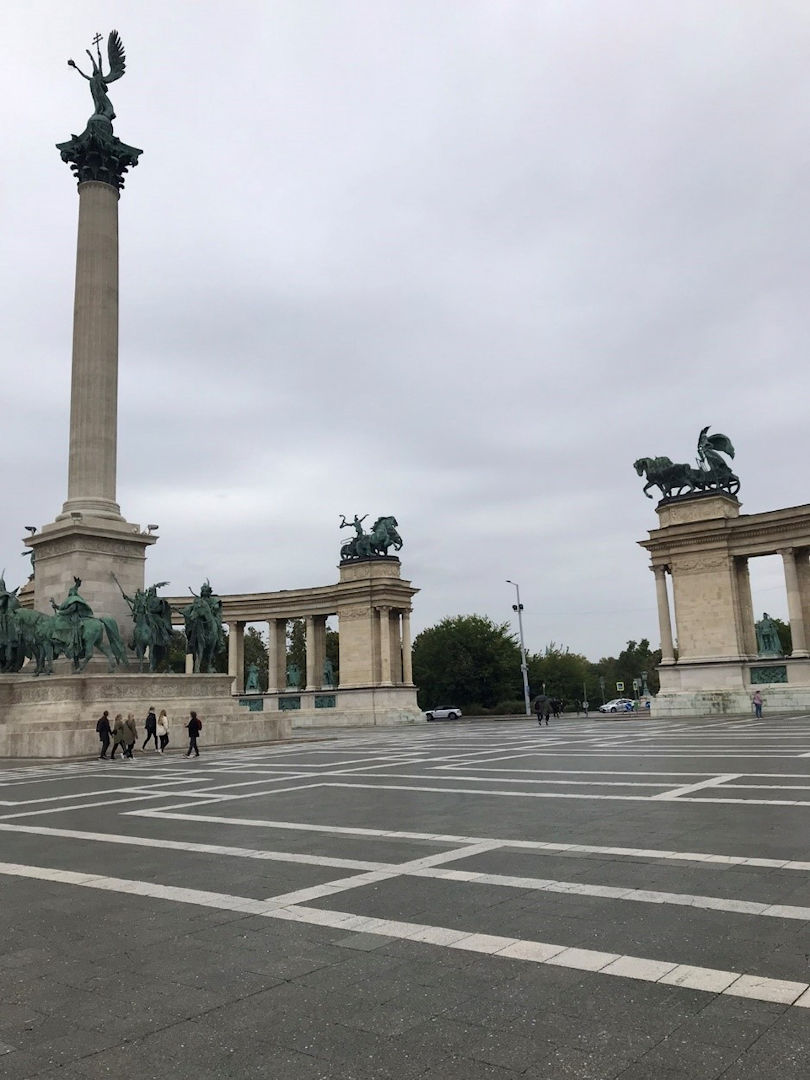 The House of Music is placed in the Budapest City park and opened in January 2022. Architect to this elegant and interesting 9000m2 building is the Japanese Sou Fujimoto, and this house proves that it is possible to be modern without being ugly. The whole concept is astonishingly refreshing and attractive – concert-halls, library, elegant cafés and restaurants in two stories, and in the basement a very interesting permanent exhibition on music which covers the origin of music up to today´s music.
Fascinating is the fact that the building so to speak interacts with the surrounding nature as the roof of the entrance area has columns as well as trees who stand up to the air through holes in the construction. In the shop I bought a five-DVD-box with the great Hungarian pianist Annie Fischer. " We received this box a few days ago, and you are the first one to buy it" said the man who sold it to me.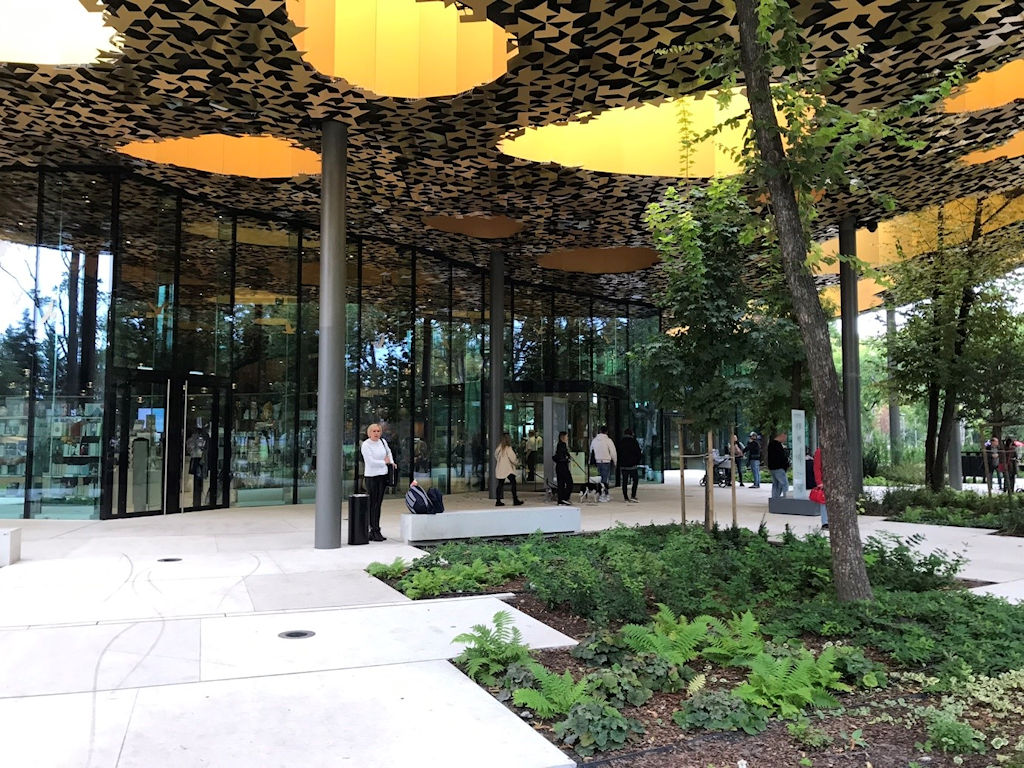 The place both enchanted and impressed me, and I hope that one day I can listen to a concert there – the recital with Fülöp Ranki playing the whole piano output by Zoltan Kodály on Sunday evening was sold out.
Well, leaving the House of Music I peeped into the elegant New York Cafe, but it was impossible to find a free place and the line of waiting was so long that I decided to go directly to my next sight – the Mathias Church and the Fisherman´s Bastion. Until now I had walked around the city, but now I took a taxi, and when I arrived up the hill and came close to the truly magical beauty of the Church and Bastion overlooking the Danube with the Parliament building on the other side – hazily seen in the rain – I said to my driver: "I hope that you will forgive me, but I think that I am going to faint."
He laughed and I paid my 3000 HUF and climbed out into a foggy beautiful dream! Inside it was as close to heaven as you can get down here, and the men and women in the church looked serious and respectful – as easily happens when confronted with true beauty and solemnity.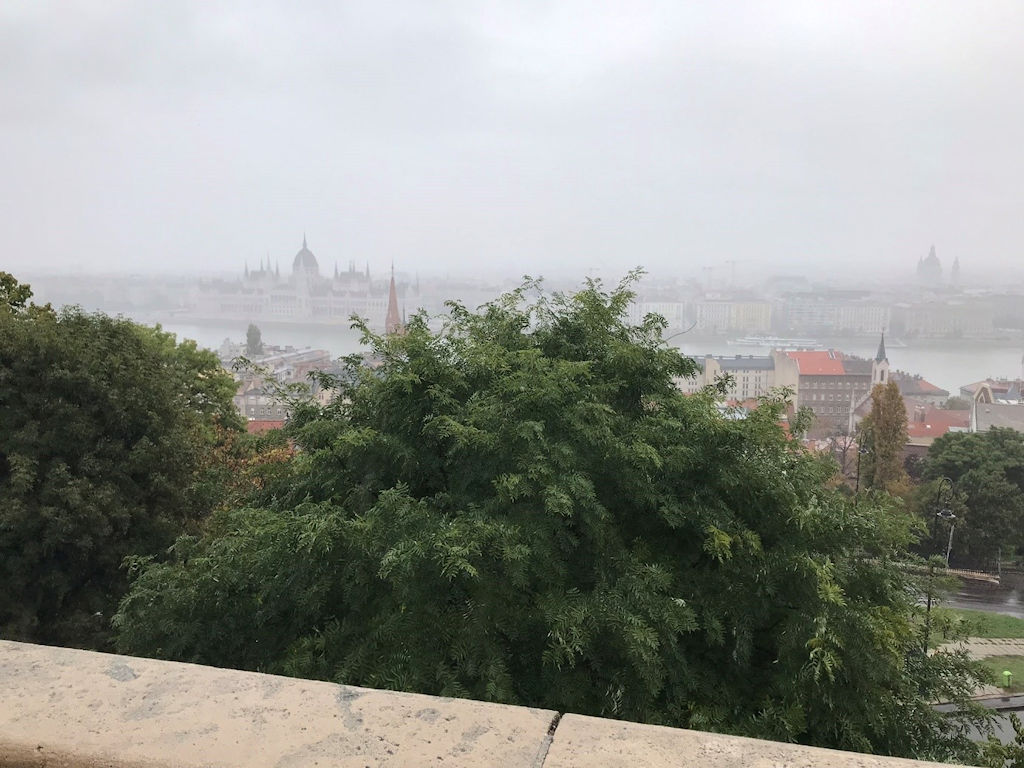 After this I took myself to Ruzworms cafe which opened the same year as Beethoven died – 1827 – and I suppose that among very many also Franz Liszt was there sipping coffee and wine and smoking his cigars and talking to his friends. I had an apfelstrudel and a glass of wine, and then I took a taxi down to Jane Haining Rampart to go aboard once again the ship of the Legenda Cruises – before my last dinner in Budapest on my last day there, I decided to again make the cruise that I had done on my first night in Budapest, but this time armed with a fully charged iPhone. Now I could take photos and films. When I now look at these I can only say that the result is great! Like in a beautiful old film I watched Budapest say good bye to me, and if I can I will come back some time to re-see things that I saw this time as well as experience new things – the Buda Castle, the Puppet Theatre Babszinház, some thermal bath, the lake Balaton and small Hungarian villages.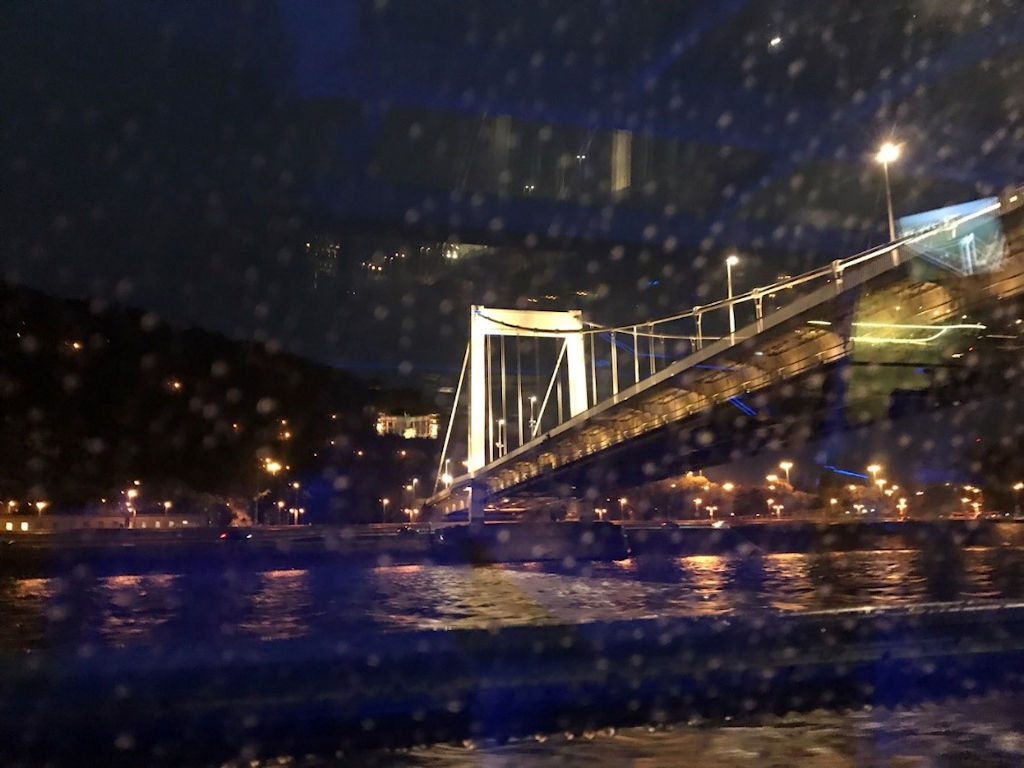 My very last memory from the Hungarian capital was a meal in the Zsázéves restaurant in the Piarista street close to the Danube. I had a fine dinner and the four gentlemen who played Hungarian and gipsy music were excellent virtuosos. I asked the if they would play Brahms´s 5th Hungarian Dance and Monti´s Czardas, and they tore these tunes off like a whirlwind – veritable festive Fireworks which glowed and sparkled!  Quite a fitting finale to my pleasant visit to Budapest I must say. Viva Hungaria!